What is Aadhaar Masking? Aadhaar Masking API & SDK Solution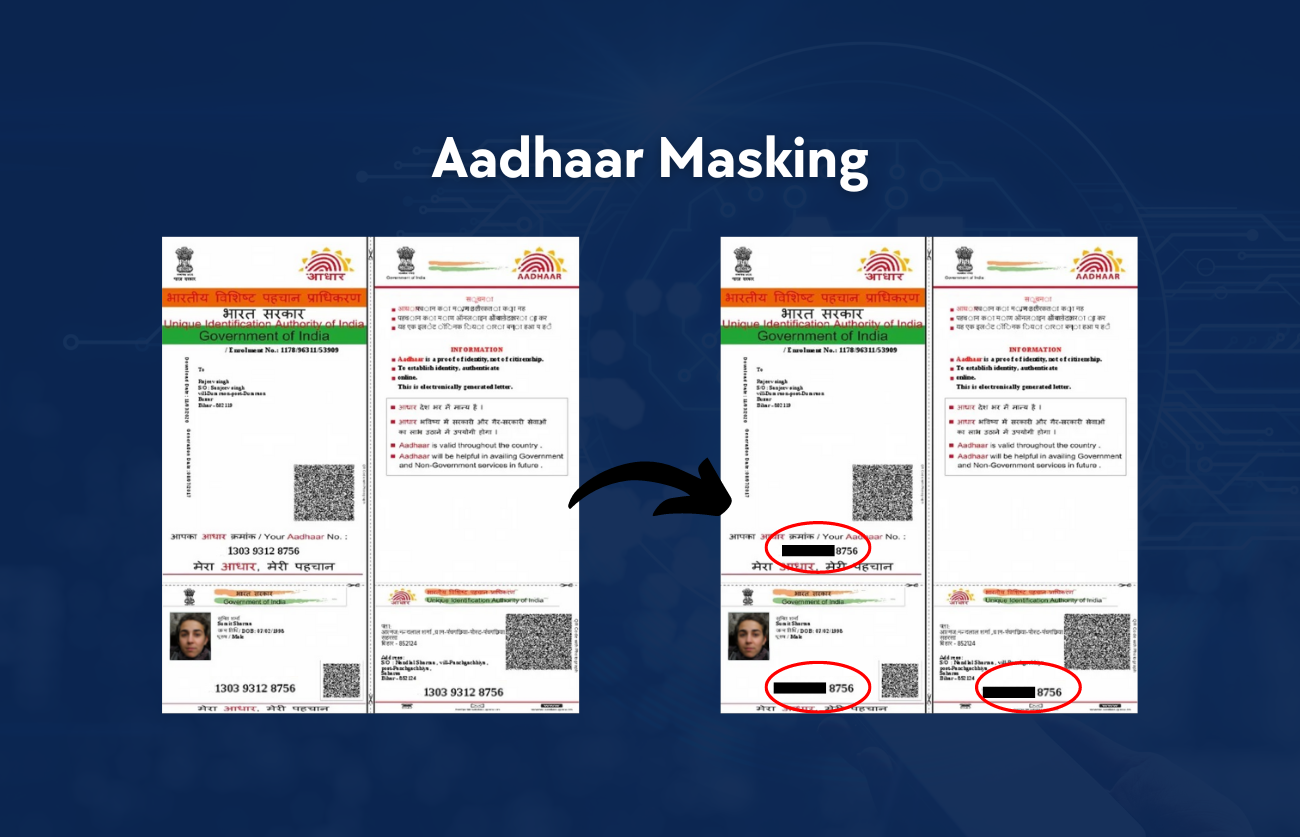 Aadhaar card is used universally in India for the process of authentication; be it while booking tickets for traveling, opening a bank account, or checking in a hotel. While it has eased the process of verification and eliminating duplicate identities, it was observed that there were a lot of cases where the Unique Identification Authority Of India's (UIDAI) 12-digit unique ID was misused.
It created an issue of data privacy as tracking the circulation of Aadhaar cards was challenging. Hence, UIDAI came up with Aadhaar Masking, which would mask an individual's sensitive information and still be valid as identity proof.
What is Aadhaar Masking?
Masked Aadhaar as the name suggests is the masking of the Aadhaar number in the card to maintain confidentiality. Aadhaar Masking as per UIDAI implies replacing the first eight digits of the Aadhaar number with some characters such as "xxxx-xxxx" while only the last four digits of the Aadhaar number are visible. It lets you mask your Aadhaar number in your downloaded e-Aadhaar.
Why use Masked Aadhaar?
The masked version of the Aadhaar card which shows the last four digits of your Aadhaar is signed by the UIDAI. It carries the photo, QR code, and demographic information of the person. The card works as identity proof when sharing the complete Aadhaar number is not required. A masked Aadhaar card thus safeguards people from identity thefts and protects them.
Steps to download Masked Aadhaar
Visit the official website of UIDAI and go to the "My Aadhaar" option to download your Aadhaar number, or visit https://eaadhaar.uidai.gov.in
Enter your 12-digit Aadhaar number.
Select the option - 'I want a masked Aadhaar'.
Complete the verification process by entering the captcha verification code that will be provided.
Click on 'Send OTP'. An OTP will be sent to your registered mobile number.
Enter this OTP on the portal.
Click on the 'Download E-Aadhaar card' option.
BFSI use case
Banks in India receive multiple types of Aadhaar cards in various formats. Also, there are Aadhaar cards that are already masked when they are downloaded from the UIDAI Portal. These go for manual keying i.e. human eyeballing.
SuperScan AI's Aadhaar Masking is 99.2% accurate, achieved in just 50 milliseconds, handling most of the bottlenecks faced by Banks, Insurance & Fintech companies in the real world.
Conclusion
Aadhaar Masking protects the personal information of the individual that may be linked to one's Aadhaar number. This way it minimizes the risk of fraud against any user and puts a check on the unnecessary sharing of Aadhaar cards.
If you are looking for Aadhaar Masking solutions, consider our SuperScan AI's SDK and API. Find out how you can leverage SuperScan AI to decrease your Aadhaar Masking throughput, increase accuracy; and lower overall costs.
Also Read - Roadmap to Successful Digital Transformation in Banks, Insurance & Fintech Companies